Cummins X12 Engine Review
For centuries the argument has raged. Does size matter? Well, if you like great performance, power and copious amount of torque, the answer is a resounding no. At least in the world of diesel engines.
Currently being tested on the roads of North America, the X12 is a massive 600LBS lighter than other medium bore engines and has been especially designed for weight sensitive applications and for vehicles where the X15 has more grunt that's needed for the task.
Despite being light weight the X12 delivers up to 500HP and a power to weight ratio of 1,700 lbs./ft, meaning what you lose in engine weight you can gain in maximum payload capacity without losing an ounce of performance.
Cummins boast, with plenty of reason, that the X12 is ideal for growth markets, regional haul, intermodal and vocational applications. That it is the "Productivity champion, with industry-leading power-to-weight in performance and transient response". It's also "Fuel efficient from idle to interstate, through low-friction design".
Being a Cummins, you can also expect similar maintenance intervals enjoyed by its big brother, the X15. It's also compatible with many transmissions and can be used in a fully automatic mode, AMT or manual.
So how did the X12 come about?In August of last year, it was announced that Cummins was to embark on a joint venture with the Eaton Corporation, known for, amongst other things, their Powertrain system."Our joint venture with Cummins", explained Eaton chairman and CEO, Craig Arnold, "will leverage the technical strengths and experience of two industry leader with long histories and deep industry expertise to provide superior automated transmission technology for our global customers."
Each company holds a fifty-fifty stake and they've named the new company Eaton Cummins. Its aim is to design, assemble and market medium-and-heavy-duty automated transmissions for the commercial sector. The X12 is the result.
Mike Taylor, the Cummins Global Powertrain Manager has this to say. "We believe the X15 will continue to be very important in the line haul space; we don't think that there's any trend moving away from big bore products that are phenomenal when you're talking coast-to-coast hauling. However, we also see that there's opportunity in and around urban areas related to regional haul applications. That's specifically what we've targeted for the X12. We don't see it as cannibalizing our X15 product; we see it as adding a new optimized package that will serve this regional haul space really, really well."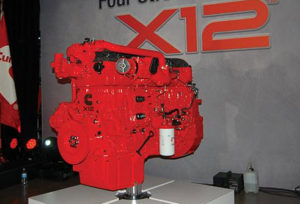 Taylor gave the example of downspeeding as to why the relationship between Eaton and Cummins would bear fruit. Downspeeding is what you get when quicker axle ratios allow the engine to maintain a lower RPM without having to forego any power to the axle. This also benefits fuel consumption.
Mike explains, "As you slow the engine down, you have less frictional losses, and you have the ability to keep it in more of a fuel-efficient range, burning less fuel. The engine and transmission working together enable that. Having said that, downspeeding can harm performance if you're not careful. As an engine manufacturer, we need to make sure that the vehicles perform at a high level from gradeability, launch and maneuverability perspectives. This interaction between the engine and the transmission is hyper critical, whether you're at 2 or at 65 MPH. Being completely transparent between the two systems means that the engine system and the transmission system become one system."
One admirable trait of Cummins is to ensure that the longevity of their engines is so great that they retain their re-sale value.
Over to Mike again.
"A second owner may have a bit of a different perspective on what he wants from a truck operation, from total cost of ownership. All of those things play into how we go about developing powertrains. Having this joint venture gives us the flexibility not just on the mechanical interface, but also the controls interface to basic features that we develop like adaptive cruise control and progressive gear shifting. All of those things are highly integrated and being completely open and transparent between the multiple systems makes them possible."
The development of powertrains is the de rigueur in the truck world media, with electric, hybrid and hydrogen the buzz words for the future of transport, yet good old-fashioned diesel, with all its negative press, remains at the forefront. But will that change, Mike was asked?
"Many of the things we've talked about today in regard to diesel automated transmission technology are applicable to natural gas and even all-electric powertrains. We just want to be able to offer the right technology. Some customers, who might have applications that fit a pure electric powertrain, will obviously be interested in the pure electric solution, which might not be optimized for other applications. What we want to do is be able to say, 'Hey, we're not here to push diesel; we're not here to push full electric. We're here to provide whatever the right technology is for you.'"
Refreshing words indeed in this changing world of ours. He continues…
"Our know-how in terms of different applications and the relationships that we have with hundreds if not thousands of OEMs makes Cummins uniquely qualified to be able to offer the right solution with the right technology and we're really, really excited about where that is taking us."
And so are we Mike, so are we.
Let's take a look at the specs:
| Peak Torque |  1250-1700 lb-ft | 1695-2305 N•m |
| --- | --- | --- |
|  Governed Speed |  2000 rpm |   |
|  Clutch Engagement Torque |  800 lb-ft |  1085 N•m |
|  Number of Cylinders |  6 |   |
|  System Weight |  2,241 lb |  1,017 kg |
|  Engine (Dry) |  2,050 lb |  930 kg |
|  Aftertreatment System |  191 lb |  87 kg |