Machine Shop services
Below is a partial list of the standard machine shop services we offer for industrial diesels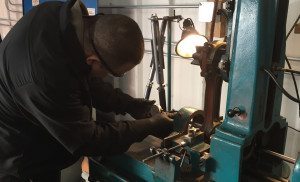 manufactured by Caterpillar, Cummins, Komatsu, MTU, as well as most other major manufacturers. If you don't see a particular service, or are interested in more information, please Contact Us today.
Performance Camshaft: Followers/Lifters/Tappets
Performance camshaft parts are the heart of how an engine runs. Lift, duration and timing are very important in the reconditioning process. A worn performance camshaft can reduce power by as much as 25% when compared to the efficiency of a new or remanufactured like for like part. Camshaft selection can make or break the efficiency of the engine. As little as .001 wear in the performance camshaft can effect valve timing by as much as 3 degrees. Remanufacturing a performance camshaft is an inexpensive part of the remanufacturing process yet it will pay the biggest dividends. With our camshaft grinders, we can restore a performance camshaft to the proper lift, profile, and duration. This produces a "like new" surface for the cam follower. When initially researching a performance camshaft make sure the camshaft selection you choose is from a reputable parts manufacturer.
Connecting Rods Remanufacturing
Connecting rods, are cleaned, magnafluxed then machined to O.E.M. specifications and honed to the standard diameter of original equipment for even distribution of stress on the bearings. New bushings are installed and machined in all bushed oliver rods. All of our oliver rods are carefully inspected for bend and twist. Having the ability to recondition connecting oliver rods is a unique service that gives Capital Reman Exchange the ability to assemble our own cylinder packs. Our state of the art equipment including sunnen and berco machinery gives us the best finished oliver rods on the market.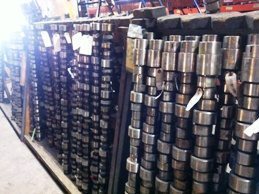 Crankshaft Design / Broken Crankshaft Component Failures
We are your one stop shop when you have a broken crankshaft. All of our crankshaft design specs are precision machined to exact tolerances with no odd size bearings or journals. On a broken crankshaft it is important to machine to the original specifications while keeping in mind why the broken crankshaft failed in the first place. Thrust surfaces on a broken crankshaft are micro-polished to provide precise surface finishes for smooth engine operation and reduced thrust bearing wear. Every crankshaft design journal is inspected and measured with critical accuracy. After the crankshaft design is finished machining, oil holes are chamfered to improve lubrication and every journal polished to a smooth finish for long bearing life. Finished crankshaft design specs are thoroughly cleaned with special emphasis to flushing and brushing out oil passages to remove any contaminants. Capital Reman Exchange boasts one of the finest crankshaft design departments and specializes in remanufacturing any broken crankshaft.
Cylinder Blocks
Our cylinder block department is reliable, accurate, dependable and an awesome sight in itself. We pride ourselves in our quality and attention to detail. We go through a detailed 12 step process when machining our cylinder blocks. CBN technology gives us the ability to machine to exact roughness (Ra) specifications.
Cylinder Head Machining
Our ported heads department is equipped to machine all makes of diesel and natural gas cylinder heads. Cylinder head porting refers to the process of applying finely skilled techniques to the cylinder heads to upgrade the engine to the highest level of efficiency output. Cylinder head porting is most directly responsible for high horsepower output of an engine. Our ported heads capacity is from small ported heads all the way up to the giant CAT 3600 series ported head which weighs 500 lbs. and has a seat diameter of over 4 inches. On complete cylinder head porting rebuilds we disassemble the cylinder head, perform a magnetic particle inspection and pressure test using our state of the art newclear tester checking the casting to look for leaks. We then offer a wide variety of repairs on the ported heads that include: injector tube replacement, valve seat and valve guide replacement. During cylinder head porting, we repair damaged bridge pin bores along with resurfacing the decks and the exhaust manifold surface.
One main cylinder head porting repair involves fixing cracks in the casting and repairing the damaged cam bushing bores along with repairing damaged exhaust manifold stud holes. During remanufacturing process we try and reassemble the ported heads via the same technique that was originally used on the ported heads. Once all cylinder head porting repairs have been performed we then assemble the ported head and check valve heights and vacuum check the seal between the valve face and the valve seat. Contact Capital Reman Exchange today to learn more about cylinder head porting repairs and new remanufacturing techniques on ported heads.
General Machining
While engines and remanufacturing parts remain the center of our business focus, we are extremely well equipped to service all sorts of other industrial components. Whether it be tool making, surfacing, boring, crack detecting, magnafluxing, polishing, grinding, or roll grinding, we are set up to handle the task. We provide solutions and understands the demands that this industry brings, combined with the need for a high level of service and a sense of urgency.
Our machining shop centers, lathes, welding and a heat treating oven allow us to repair components that many other machine shops would not attempt to salvage. Coupled with our staff's knowledge and experience ensures quality and reliability on every job.