New Re-Designed Engine: Cummins QSK60 Stage V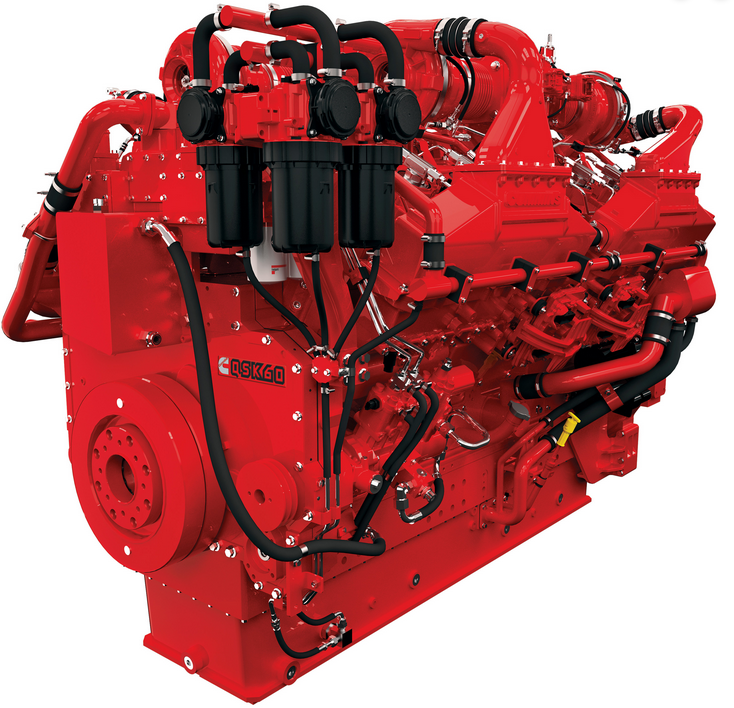 As you may know, the Tier IV/Stage V Final emissions regulation impacts engines above 560kW. As a result of this Cummins has brought us the new QSK60 Stage V engine as part of their 55-2125kW line up. The QSK60 ranges from 1398 – 2125kW to be utilized by excavators and dump trucks, allowing for an impressive durability of near 4.2 million litres of fuel consumption before overhaul.
 
The QSK60 boasts a redesigned power cylinder, wastegate turbocharging and crankcase breather system to ensure particulate matter is kept well in the parameters of the stage V regulation. The modular SCR system is the method employed to tackle NOx emissions by reducing the engines backpressure, equalling an increased fuel economy, and enhancing temperature management to decrease and minimize Adblue/DEF consumption.
 
Other features bragged by the QSK60 are a simplified air handling configuration by use of Cummins's own turbochargers along with intercoolers to guarantee an altitude capability of over 3,500m and making servicing less hassle by making the top end easily accessible. There are numerous case studies supporting the benefits advertised by Cummins, one being Rio Tinto Mining Corp. Rio Tinto wanted to improve life-to-overhaul of the QSK60 that powered their Komatsu WA1200- loaders, and oil filtration presented itself as the way forward. Rio Tinto sported nine 220 ton, 1892 hp WA1200-6 loaders working in their iron ore operation in Australia where production reached 330 million tons in 2017.
 
The study focused on the condition of 24 QSK60 engines in both iron ore and coal mines that had achieved full life with Eliminator and standard spin off filters. The study concluded that the Eliminator system gave a 20 percent increase in engine life based on fuel burn, leveraging a reduction of flow restriction and an enhanced filtration efficiency.
 
With regards to environmental and operational benefits, mining contractor Kalari HSE wanted to reduce their carbon and diesel particulate emissions by upgrading their Tier 1 Cummins QSK60 engines to the QSK60 "Advantage" solution in their Komatsu 830E haul trucks. This upgrade resulted in a cut of diesel emissions by a whopping 63 percent. Also, their fuel consumption reduced by 3 percent across the six upfitted trucks which reduced the CO2 emissions by more than 510,000 KG for the trucks that operate 6000 hours a year. So, the QSK60 "Advantage" not only impacts emissions, but also minimises the cost of ownership.
 
This may leave you wondering what the QSK60 "advantage" solution actually is? Basically, it's a rebuild upgrade for the 2500 hp, single stage QSK60 which replaces the old fuel system with a Modular Common Rail fuel system along with the installation of Cummins new combustion technology from their Stage V programs. This combination allows for a much smoother and quitter engine, that reduces driver fatigue and safety issues.
 
So, it is clear that this improved technology and method is proving very beneficial, Cummins state that the stage V is well on track and have already completed 200 installations.
QSK 60, Cummins QSK 60, QSK 60 Diesel Engine