Services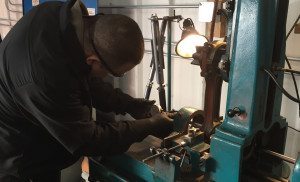 Below is a partial list of the standard shop services we offer for industrMachine Shop Servicesial diesels manufactured by Caterpillar, Cummins, Komatsu, MTU, as well as most other major manufacturers. If you don't see a particular service, or are interested in more information, please Contact Us today.
Performance Camshaft: Followers/Lifters/Tappets
Performance camshaft parts are the heart of how an engine runs. Lift, duration and timing are very important in the reconditioning process. A worn performance camshaft can reduce power by as much as 25% when compared to the efficiency of a new or remanufactured like for like part. Camshaft selection can make or break the efficiency of the engine. As little as .001 wear in the performance camshaft can effect valve timing by as much as 3 degrees. Remanufacturing a performance camshaft is an inexpensive part of the remanufacturing process yet it will pay the biggest dividends. With our camshaft grinders, we can restore a performance camshaft to the proper lift, profile, and duration. This produces a "like new" surface for the cam follower. When initially researching a performance camshaft make sure the camshaft selection you choose is from a reputable parts manufacturer.
Connecting Rods Remanufacturing
Connecting rods, are cleaned, magnafluxed then machined to O.E.M. specifications and honed to the standard diameter of original equipment for even distribution of stress on the bearings. New bushings are installed and machined in all bushed oliver rods. All of our oliver rods are carefully inspected for bend and twist. Having the ability to recondition connecting oliver rods is a unique service that gives Capital Reman Exchange the ability to assemble our own cylinder packs. Our state of the art equipment including sunnen and berco machinery gives us the best finished oliver rods on the market.
Crankshaft Design / Broken Crankshaft Component Failures
All crankshafts are remanufactured in-house. The first part of the process is to identify what, if any damage has occurred to the crankshaft. The crankshaft is then tested for Rockwell hardness to ascertain it's serviceability. Once known, the crankshaft is checked for straight, imperfections, and any structural defects. A crankshaft is then polished or undercut to the next serviceable size based on the standards and specifications of the OE manufacturer. If undercut, the crankshaft is then tested for Rockwell hardness again to ensure serviceability with all oil passages, gears, and tone rings fully inspected.
Cylinder Blocks
Our cylinder block department is reliable, accurate, dependable and an awesome sight in itself. We pride ourselves in our quality and attention to detail. We go through a detailed 12 step process when machining our cylinder blocks. CBN technology gives us the ability to machine to exact roughness (Ra) specifications.Reman Mack E-Tech Pistons
Cylinder Head Machining
Our Remanufactured cylinder heads are all completed in-house. All cylinder heads are surfaced, pressure tested, vacuum tested, and magnafluxed to ensure the core integrity. During the reman process all valves and seats are measured to exact specifications of the particular cylinder head, as well as injector protrusion to ensure your reman head will be the exacting specifications of the OE.
General Machining
While engines and remanufacturing parts remain the center of our business focus, we are extremely well equipped to service all sorts of other industrial components. Whether it be tool making, surfacing, boring, crack detecting, polishing, grinding, or roll grinding, we are set up to handle the task. We provide solutions and understands the demands that this industry brings, combined with the need for a high level of service and a sense of urgency.
Our machining shop centers, lathes, welding and a heat treating oven allow us to repair components that many other machine shops would not attempt to salvage. Coupled with our staff's knowledge and experience ensures quality and reliability on every job.
Engines and parts can be very complex. At Capital Reman Exchange we are always trying to learn more and explore ways to make ourselves more knowledgeable and efficient for our customers and ourselves. Please feel free to give us a call so we all have the opportuinty to learn something from each other. We look forward to working with you now and into the future.
Contact us if you need a quote or have questions regarding the services we offer.